New FarmHub online portal
Flor- Hanly - Sunday, March 17, 2019
Searching for drought assistance or support for your farm business?
Your options are now in one easy-to-access place with the launch of FarmHub.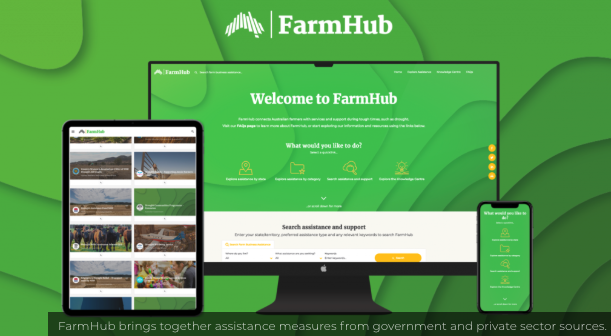 Developed by the National Farmers' Federation and funded by the Commonwealth Government, FarmHub is a one-stop shop for details on assistance with fodder, water, transport, everyday-living expenses, health and more.
It provides a useful portal for farmers seeking drought assistance and support.


FarmHub collates hundreds of sources of reputable drought and general farming support and assistance initiatives in one easy-to navigate website.


The tool was designed primarily for farmers but is also highly useful to those providing professional services to farmers such as rural financial counsellors, accountants, solicitors and health professionals.


Minister for Agriculture and Water Resources David Littleproud said FarmHub would save time by bringing together the services of the Commonwealth, states, councils and charities.


Farmers just need to go to farmhub.org.au and type in their location to find help available. It will show what fodder, water, transport and living expense assistance is available at an individual farm, as well as mental and physical health services.


The Knowledge Centre within FarmHub provides essential information across a variety of drought-related topics, reaching out to industry experts to access valuable information on drought-related topics such as: what to do with a failed crop; feeding livestock during drought and tips for maintaining sound sleep patterns.


FarmHub does not require you to enter personal details or create an account. Simply visit farmhub.org.au to search for assistance.


FarmHub is a part of a suite of the Australian Government's drought support measures announced at the Prime Minister's National Drought Summit last October.