Mackay Food Hand Up
Flor- Hanly - Monday, April 29, 2019
Flor-Hanly Charity Spotlight
Mackay's Food Hand Up is a local charity providing food parcels and assistance to families in need.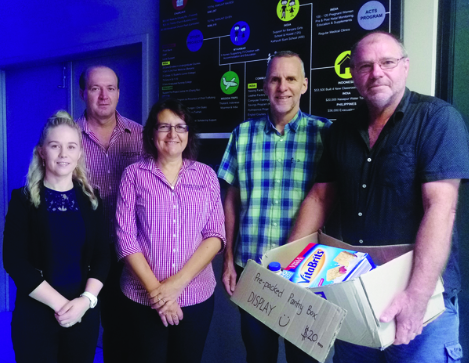 The charity opens their doors every Thursday from 9am at the New Life Church on Evans Avenue, but their doors are always open to those in need.
Fresh fruit and vegetables, pantry and household items are generously donated by local food suppliers such as Bushmans, Bidfest, Coles and Woolworths. Locals that visit can collect a box and fill it with what they need. A donation is kindly appreciated in return, to allow this project to continue.
The Orange Sky van is also available each Thursday providing free laundry and shower facilities. They visit other locations around the Mackay region, check their Facebook page for further details.

The New Life Foundation is a not for profit organisation, partnering with other organisations to relieve poverty and provide humanitarian aid globally. Additional profits raised from the Food Hand Up project and the Kidz Life playcenter are donated to the New Life Foundation and distributed to the various projects they support, such as the India Banjara Girls School and Hostel (J189). This project assists young Indian girls who would likely be subjected to child femicide, female discrimination and the limited opportunities afforded to women in Indian society.
The New Life Foundation began sponsoring the Girls School and Hostel in 2006 and during this time the project has expanded to encompass child sponsorship, education (grade 1 through to university), women's health and education and micro business development. To find out more about the NLF projects or to donate visit www.newlifefoundation.com.au.

Flor-Hanly plans to support this charity by giving our time to help those in need. Pop in and say hello on a Thursday morning. We urge you to consider supporting this local charity by donating your time or dollars. Please contact New Life Church through their website www.newlifechurch.com.au, phone (07) 4953 4400 or visit them at 75 Evans Avenue, North Mackay.
Photo: L-R: Hannah Cushway, Dale Noack and Nicola Bamford from Flor-Hanly visiting Craig Tomkinson and Frank Mason from Mackay Food Hand up.
Copyright 2019. Flor-Hanly Commercial & Agribusiness Accountants Mackay QLD