Flor-Hanly team flies at 7 Habits workshops
Flor- Hanly - Wednesday, March 13, 2019
Over the past 2 weeks, our team has been having a great time at our 7 Habits workshop
Based on the content from The 7 Habits of Highly Effective People book by Stephen Covey, it is considered one of the most impactful books ever written on personal effectiveness, leadership development and change.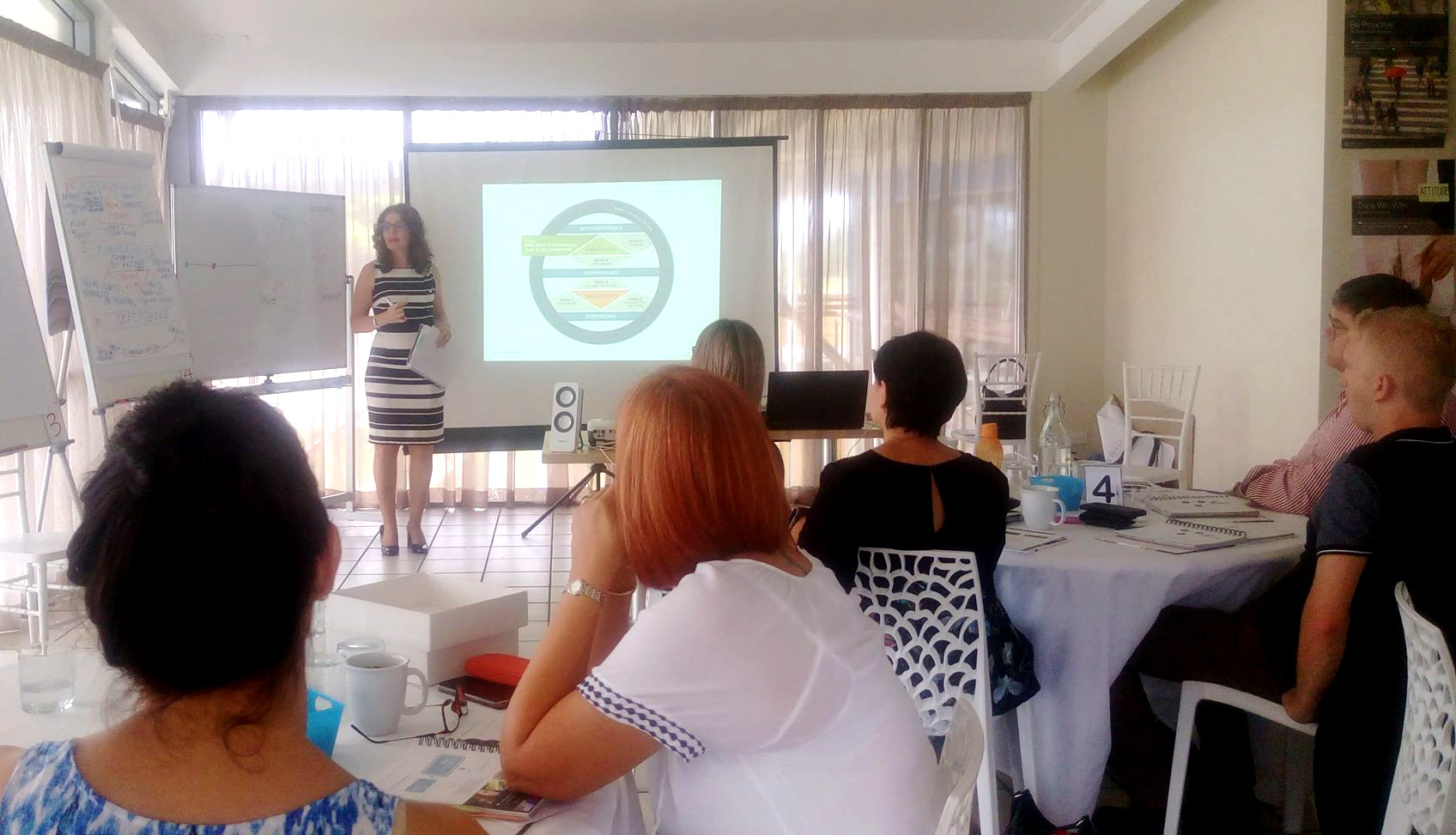 Flor-Hanly is proud to be a licensed organisation with Franklin Covey, enabling them to deliver the workshop
inhouse
, led by General Manager, Kerri Borg, who is an accredited facilitator of the 7 Habits. Franklin Covey runs public 7 Habits workshops in major capital cities throughout Australia and the world.
The major benefit of running the workshop inhouse is that our team has this fantastic opportunity to learn together and from each other as we drill down into what each of the 7 Habits actually means and how we can practise the skills to be more effective in our work and personal lives. It gives us a common language and framework to use in our workplace as we work together to get the best possible outcomes for our clients and our staff.

On day 1, we covered the Foundational Paradigms and Principles of Effectiveness, Habit 1: Be Proactive and Habit 2: Begin With the End in Mind. We ran through a simple See-Do-Get model that helps demonstrate the results we get in our lives depend on what we do. What we do depends on how we see the world around us. Therefore, if we want to change our habits, we need to start by changing our paradigms (how we see things). In Habit 1, we talked about how we respond to certain situations (or a stimulus) and how we can train ourselves to pause and respond proactively rather than reactively. Simple things like changing our language from "I have to" to "I choose to" and "we have no choice" to "let's look at all of our options". We also talked about ways to focus our time and energy on things we can control, rather than those things over which we have no control. We wrapped up the day with Habit 2, which culminated in a series of exercise that led to each person developing a personal mission statement. Many of our team commented on how much they enjoyed this session and that it really got them thinking about the things that matter most to them.

Day 2 began with Habit 3: Put First Things First – which was taking what they learned on day 1 and planning out how they would put that into practice. It was about managing our time to ensure that we do the things that matter most first. We then moved on to Habit 4: Think Win-Win, where we talked about having an abundance mentality – meaning there is "plenty of pie" for everyone as opposed to the scarcity mindset that the more pie others get, the less there is for me. We discussed the challenging skill of balancing courage and consideration or being willing and able to speak our thoughts respectfully and considering other people's wins as well as our own. Habit 4 is the perfect segue to Habit 5, which covered how to listen with empathy or really getting to the heart of what matters to the other person. It teaches us that most of the time we listen to others with the intent to reply – to tell them why we think they're wrong and we're right and to get them to come around to our way of thinking. Learning and practising the skill of listening for understanding is very powerful in transforming our relationships with others.

Our third and final day of 7 Habits was last Friday. We spent some more time practising the skills of Habit 5 – in particular how to respectfully seek to be understood by others when emotions are high. We also looked at how we can practise Habit 5 when communicating via phone, email and text without the benefit of being able to see the other person's body language. Habit 6: Synergize is essentially about putting all of the other habits into practice and to work towards a third alternative that is better than either party had in mind – in other words, not your way, not my way but a better way. Achieving synergy takes a lot more time and effort than our default position, which is to go for compromise but it is so worth it! Synergy creates a buzz and energy that is inspiring and contagious. Lastly, Habit 7: Sharpen the Saw taught us the importance of self-renewal in the four dimensions of mind, body, spirit and heart and reminds us that in order to be effective we have to remember to take care of ourselves every day.

The 7 Habits has been a fantastic team bonding experience and our team have taken away lots of practical skills they can incorporate in both their personal and work lives. Next time you're talking to one of our team, feel free to ask them about 7 Habits and share with you what they have found to be most insightful for them personally.